So, it is trite to say that every picture tells a story. But it is trite for a reason. Here is a simple photo of two pages of the billing entries of the Wachtell Lipton firm in their representation of Twitter against Elon Musk in the Delaware litigation to force him to honor his promise to buy Twitter.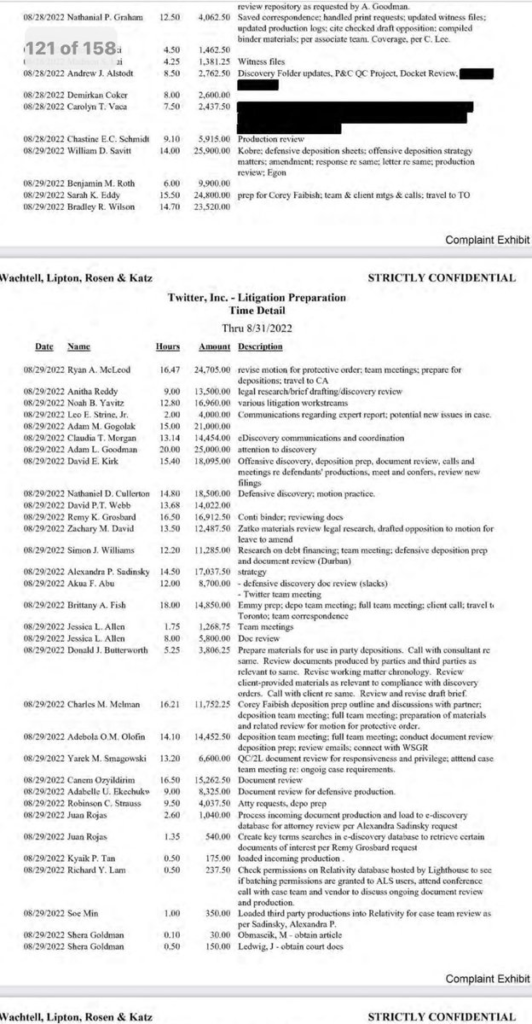 What story does that picture tell? It actually tells more than one story.
Certainly, it obviously tells a story of entirely unethical overbilling. RPC 1.5(a) in Delaware prohibits lawyers from charging unreasonable fees just like other states do. Given the absolutely cavalier approach to attempting to describe any work being done with any specificity and the rampant billing of giant blocks of time, it would be pretty simple for the average disciplinary counsel to go after pretty much any of the listed lawyers for violating RPC 1.5(a) and have a good shot at success.
20 hours in one day at more than $1,000 per hour described only as "attention to discovery." 15 hours in one day and 13.68 hours in one day by two different lawyers at more than $1,000 per hour without any description at all for either. 16.5 hours for another lawyer at almost $1,000 an hour for just "document review." These all occurring on August 29, 2022, along with hundreds more hours and hundreds of thousands more dollars of billings on that same day.
But it also tells a story (or at least would make a good first chapter of a story explaining so many other problems that currently exist in, and for, our profession.
It tells a story of why litigation matters are so desperately expensive and mostly unaffordable throughout the United States. Litigation costs too much to be involved in because firms like this at the top of the "food chain" are billing corporate clients like this. And for the most part, corporate clients are willingly paying the bills without a qualm.
It tells the story of just how vastly different risks are for lawyers in small firms or with solo practices than those lawyers who work for the 200 or so largest law firms in the country. All of these lawyers at Wachtell will get away with this. They will, in part, because their clients usually are fine with it, and other lawyers out there are on social media defending Wachtell and arguing that this is just how it is and that since the clients know what they are getting you can't even argue that the fees are unreasonable. If a lawyer at a small firm tried to charge their time to a client in this matter, they'd likely — and relatively quickly — find themselves getting seriously disciplined. Yet, this is how these lawyers, insulated within the cloak of one of the most powerful and profitable law firms in the nation, approached their billing in an extremely high-profile matter.
It also tells the story of why lawyers and law firms who do insurance defense work are plagued by having to jump through so many hoops, have their time entries scrutinized, audited, and rejected, only to end up being able 4 or 5 months later to be paid at incredibly reduced hourly rates and with portions of their billing still rejected or marked down under an analysis that someone else at the firm with less experience could have done the work.
There are other stories these two pages of billing records tell, but these stories are enough for today.
(N.B. Those readers who also follow me on Twitter might have seen me say when the news first broke of Musk Twitter's lawsuit against Wachtell that I was skeptical about his claim for relief because these lawyers, on Twitter's behalf, managed to make him buy pre-Musk Twitter for billions more than it was worth. I still think that from a damages standpoint, but that doesn't mean the lawyers involved aren't charging an unreasonable fee from the standpoint of the ethics rules.)